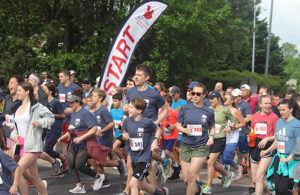 Note in the Pocket hosted our 10th Annual Socks & Undie 5k Rundie Run/Walk on Saturday, April 22nd, which took place at our own Volunteer and Donation Center in Raleigh for the first time. 
Over 1,000 people participated in the 5k either in-person or virtually, making this our biggest and most successful race yet! Runners from all across the country were able to join Note in fighting clothing insecurity for children and families. 
This year Note created a Finish Line Festival for participants of all ages to enjoy before and after the race. Children were seen smiling while getting their faces painted, running through obstacle courses, and enjoying sweet treats. Thanks to our sponsors and volunteers the morning was a huge success for everyone. 
Volunteers at the water station were able to interact with the runners before, during, and after the race which was one of the many benefits of hosting the race here at Note in the Pocket. It also allowed the race to be more intimate for both the race participants and volunteers as the course looped around Note. 
Note in the Pocket has a goal to clothe 10,000 in 2023 and the proceeds from the event will help make that happen.