A Clothing Resource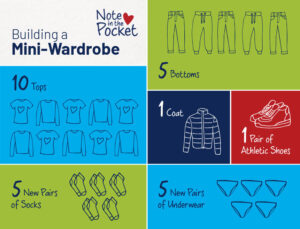 Note in the Pocket serves as a Triangle clothing resource to the many agencies and organizations already working to help feed, house, and educate some of the most vulnerable in our community. Our program provides basic day-to-day clothing needs.
When one of our school or social service agency referral partners identifies a child experiencing clothing insecurity living in poverty, they send us a request for the sizes and type of clothing needed, as well as needs of members of the child's immediate family. Each mini-wardrobe includes two weeks' worth of outfits in their specific sizes. This includes new socks and underwear, shoes, a variety of tops and bottoms to mix, match, and layer, and any outerwear appropriate to the season. The clothing is delivered to the agency that made the request on the child's behalf. The agency then makes arrangements to get the clothing to the family.
Our model for getting the clothes to the children strives to remove some of the stigma that goes along with needing help. The families do not have to tell their story over and over and ask for yet one more thing.
Families do not have to go to a location to pick through the leftovers of donated clothing. A child does not need to wear the same pair of pants over and over again. We deliver a wardrobe that has been lovingly selected for that individual by one of our volunteers. By providing stylish, good quality clothing items that they can be proud to wear, we empower students to succeed in the academic environment.